About Axel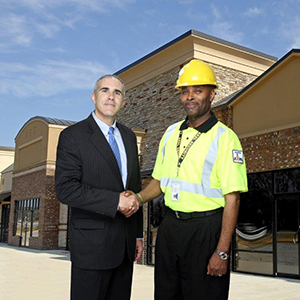 Axel Protection Systems, Inc. was started in 1989 by George Larson. George holds a C.P.A. certificate in the State of New York and has thirty years of experience in private security. He also is a Certified Protection Professional (CPP) board certified in Security Management by The American Society of Industrial Security (ASIS).
We have a proud history in the industry which we attribute to our high quality of selection, training and supervision.
Our reliability and consistency in quality of service is demonstrated by the clients which we have serviced continually for many years. References will gladly be given upon request.
Areas Serviced – All Boroughs, Westchester, Nassau, & Suffolk
Services Performed – Uniformed security officers, mobile patrol, foot patrol, security consulting, crowd control, special event security, access control, executive protection
We take pride in being able to find the right person for each position.
Company Goal
Client Retention through high client satisfaction. (Accomplish this by maintaining open dialogue with client liaison through regular visits and communication. This ensures that objectives of client are clear and being met.)
We understand that choosing a service vendor is not an easy task. Unlike a manufacturing company that can show you a sample of its finished product, a service firm has no concrete evidence of what it supplies. Other than references of the vendor company you have to rely on mere promises. Some guard agencies will tell you they're larger than the others. Some will say they're less expensive, but few if any will actually show you who they are, and what you can expect from them. We're confident that the more you know about us the more you'll want us working for you.
Axel Protection Systems, Inc. was started in 1989 by two brothers each specializing in a different field of expertise. George Larson is a CPA in the state of New York and has over thirty years of experience in the security guard industry. George is also a Certified Protection Professional (CPP).
Since 1989 we have grown steadily to a size over the national average for guard services. Our growth has come from providing superior service and charging rates that are more than reasonable.
AXEL PROTECTION SYSTEMS INC. HIGHLY RESPONSIVE & ACCOUNTABLE SERVICE
By Annie Windstorm
Click here to read article »
As featured in The Blue Book Network - Metro New York & Hudson Valley / Spring 2016
____________________________________
Contact Us

Call today at
(718) 206-4800, email us at
Bell@axelpro.net
 or
click here
to fill out our short form.