Management Team
About the President
George Larson CPA, CPP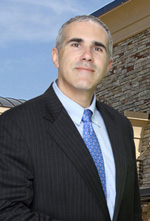 Brooklyn Born (1961)
Started in the industry at age 15
Graduate of Brooklyn College (BS Accounting 1984)
Certified Public Accountant (Arthur Andersen, & Co.)
Certified Protection Professional
Board Certified in Security Management
Certified by ASIS American Society of Industrial Security
Member of ASIS (American Society of Industrial Security)
Member of ALDONYS (Assoc. of Licensed Detectives of NYS)
Regular guest speaker at the NYPD Police Academy on the topic of leadership
Our Vice President is a Captain on the NYC Police Department and an attorney in NY, NJ, and CT.
About the Company
Began Business in September 1989
Licensed & Bonded (Watch Guard or Patrol Agency)
General Liability Insurance ($5,000,000.00) Mechanic Group
Worker's Compensation Insurance NYS State Insurance Fund
FICA, FED & NYS UI, Disability Insurance
Employee Theft Bond ($500,000.00)
Location, (Jamaica Queens) Mecca of Public Transportation
Management Experience
Certified Protection Professional
(VP-NYPD Police Captain)
Number of Employees
Large enough to do your job – small enough to provide the personalized service you want.
Training School
Security Training Institute
Member of APPL
Area Police Private Security Liaison,
NYPD Shield
Security Tip

Locks and chains should always be made of hardened steel and the shackles and chain itself should be as thick as the application allows. ____________________________________
FREE Security Assessment
Fill out our online assessment form to have Axel Protection Systmes, Inc. look into your security issues and give you their expert advice.

You'll be eligible to receive our many FREE Mets ticket giveaways!